The Long will be held in Lost Lake Park on a new map linking Lost Lake and Black Magic (the lower slopes of Blackcomb). Black Magic presents challenging terrain – steep forest with creek crossings.
Courses 1-4 and the Open classes will run only on the Lost Lake portion.
Courses 5-7 will run on both Lost Lake and Black Magic.
The Event Centre and finish will be in Lost Lake Park, a 1600m walk from Parking Lot 5 in Whistler village. From there, the start for courses 1-4 is a few hundred metres away, and the start for courses 5-7 is a 4km uphill walk (allow 1 hour from the Event Centre).
Course Planner: Brian Ellis, GVOC
Course Planner's Notes

– updated 18 Oct
The Long event will make use of two very different areas: Lost Lake Park and Black Magic (the lower slopes of Blackcomb Mtn). The Black Magic map was previously used for the 2014 Canadian Orienteering Championships (Long event) but has since been extended and linked to the Lost Lake map. The new combined map is called "Lost Magic"
Latest Updates – 17 October

1. New trails: there is active and on-going trail-building in the Black Magic forest, and not all newly cut trails may have been mapped.
2. Map generalization: in areas dominated by large and complex rock features, sometimes not all lesser features can be mapped. These "lesser features" may be quite sizeable but, relative to their surroundings, they are "minor".
3. Water features: the warm weather this summer has left many marshes and ponds on the map partially or fully dried up, but they are still readily recognizable in the terrain.
The Lost Lake area has been used a number of times previously but was completely re-mapped in 2015, using a LiDAR basemap and providing greater readability. Courses 1-4 will only make use of the Lost Lake area; Courses 5-7 will use both Black Magic and Lost Lake ("Lost Magic").
Terrain:
The Lost Lake area is laced with winding trails of all sizes, from large vehicle tracks to narrow but generally very distinct single-track bike paths. Trails are fast but rarely go in a straight line so competitors on Courses 3 and 4 can expect to be offered some forest running, too. The Lost Lake forest is a very diverse mix of small clearings, numerous intricate rock features and distinct marshes, set in a patchwork of open forest and thicker (green) forest.
The map scale is 1:7500 with 5m contours. Note that lamp posts on the lighted trails are not marked on the map, but disc golf tees and baskets are. The Lost Lake area tends to be hilly, and rocky underfoot, so O shoes or sturdy trail shoes are recommended.
The Black Magic area is totally different from Lost Lake. This is mountainside terrain – remote, wild and constantly challenging. Courses 5-7 will start high on the mountainside in an area that was only visited by the Elite classes in COC2014, but that arguably provides some of the best orienteering terrain in the Lower Mainland. These courses will all ultimately descend from Black Magic to the Lost Lake area before finishing at Lost Lake Park.
To reach the Start on Black Magic, you will hike about 4 km from the Event Centre at Lost Lake Park, following a flagged route along a road and trail system that climbs ~300m (1000'). Allow 45' – 60' for this little jaunt. There will be no toilet facilities after you leave Lost Lake, so be sure to time your last visit to the washrooms appropriately. There will be no water at the Start – bring a water bottle with you to the start. There will be a clothing return service provided – carried down by hand by volunteers, please be considerate and only bring minimal clothing for the clothing return.
The Lost Magic map scale is 1:10,000 for all classes, with 5m contours. The Black Magic forest is generally open (by West Coast standards), with good visibility and often mossy underfoot. Despite that openness, there can be a fair amount of deadfall to scramble over or around. O shoes or aggressive trail shoes are essential. The landscape is dotted with pocket swamps and small streams, and is divided by two major streams. All courses can easily cross the first stream at the same point, using fallen trees (marked with pink flagging).
The second stream (Blackcomb Creek) has a more challenging crossing. For Course 5 and 6 runners, the marked crossing is a route choice option; it can be avoided, if you desire. Course 7 runners, on the other hand, will cross the same stream at a higher point (marked on the map), and must do so.
Both crossings require descending a short steep slope to the water's edge (marked in the terrain with pink or orange flagging), and wading about 2 metres across the stream. You will get your feet wet, but the water is not deep (20-30cm). In both cases, exiting up the far bank involves another short steep scramble (also flagged with pink tape).
The dominant aspect of the Black Magic area is the major slope that must be navigated (remember – you climbed 300m to the Start!). Some parts of that slope have relatively few distinct features, while other areas have extensive complex rock features, at all scales from 2m rock-faces to 20m uncrossable cliffs. Plan your route choices accordingly.
Water:
There will be at least two water controls for competitors on Courses 6 and 7, and one for Courses 4 and 5.
Safety:
A whistle is mandatory equipment.
The maximum time allowed for completion of any course is 3 hours.
I'm totally lost – If you get lost on the Lost Lake part of your course, you can go downhill from virtually anywhere on the map and find a trail that will eventually take you back to civilization (aka Lost Lake Park).
I'm totally lost – If you get lost in the first part of your Black Magic course, go southwest (downhill) and pick up the main bike trail that you used to climb up to the Start. If you get lost in the central part of the course (i.e. after the first stream crossing), go due west (downhill), which will take you down to a major service road. If you get lost in the final (Lost Lake) portion of your course, see the earlier note.
No matter where you wander, you must report to the Finish at Lost Lake Park by the posted course closure time!
Traffic -The mountain bike trails on Blackcomb are actively used by downhill riders, so please be aware of possible traffic coming down behind you, and be considerate of riders who may not be expecting to encounter someone on the trail. Some downhill sections of these trails are also very steep; run in control! The Black Magic courses all pass through the Upper Village condo area and require you to cross Blackcomb Way at some point. This can be a busy street – cross it with care! Drivers may not be looking out for runners.
Wildlife – Deer are the wildlife most often encountered on Black Magic. Black bears have been seen sighted occasionally on both maps. Cougars may also inhabit the area (although this course planner has never encountered one). Given the unusual amount of human traffic in the forest on the BCOC weekend, both predator species are likely to make themselves scarce. Consider carrying bear spray.
Officials
Event Director: James Golding
Course Planner: Brian Ellis
Course Consultant: Adrian Zissos
Controller: Mark McMillan
Event Parking
Parking Lot 5, Whistler village. Free parking.
Access via Lorimer Road by turning right off Hwy #99. Turn right off Lorimer Road after crossing the Blackcomb Way intersection.
There is a parking lot on Lost Lake Road, however it only has 8 spaces and will probably be full by the time you arrive. Parking Lot 5 is our permitted lot.
Courses and Classes
Updated 17 October – certain changes to course 4 and 5 classes, distance and climb added

Please check the course number for your class – it may not be the same as your course number for the middle!

Courses and classes have been assigned very carefully, however, all participants should consider whether they are a good fit for their class on this course.

In particular, participants in classes on courses 5-7 should consider consider running Open-Expert on course 4 unless they are confident that their current performance aligns with their class level.

Participants in classes assigned to course 4 who are confident that their performance aligns with higher classes may wish to consider running up a class.

Participants in classes assigned to courses 5-7 who are not confident that their performance aligns with their class level should enter the "Open Expert" class (course 4).

Changes to class assignments can be made by emailing the registrar: registrar@orienteeringvancouver.ca
Courses will generally adhere to Orienteering Canada recommended winning times although certain classes on certain courses may exceed the RWT.  A lower-intermediate level participant may take 2-3 times as long to complete the course!
Sample terrain in Black Magic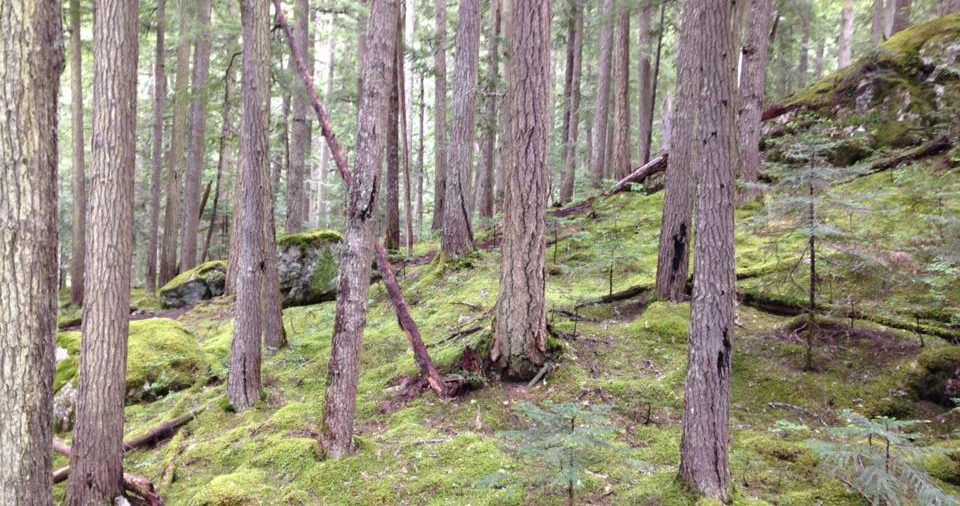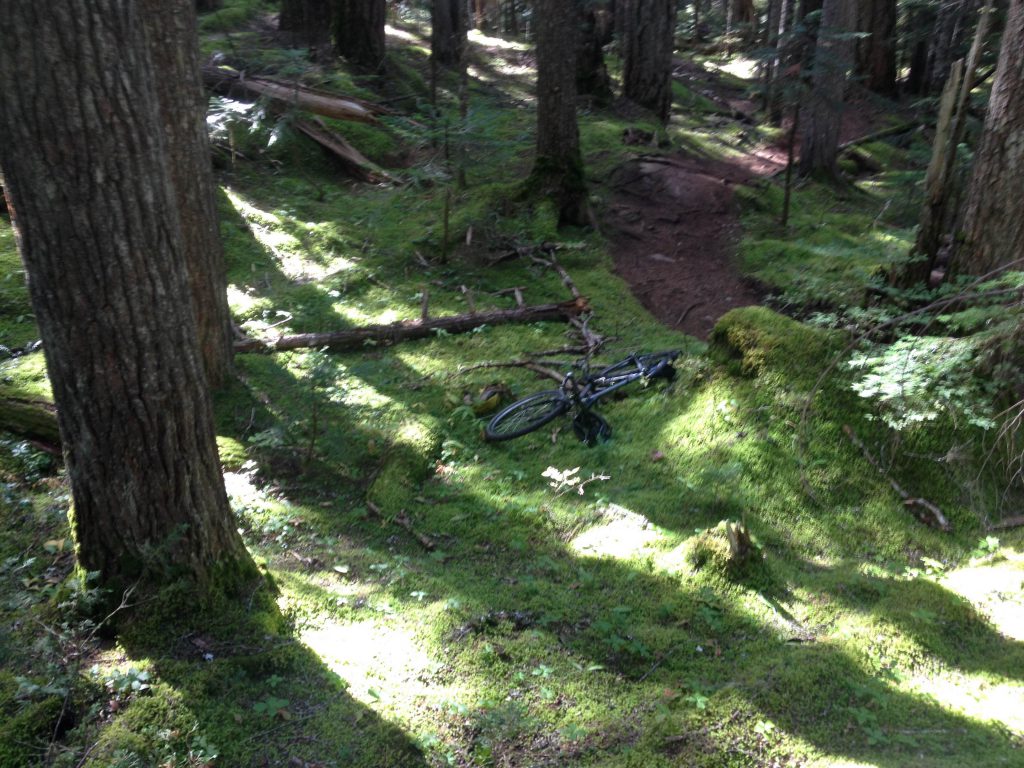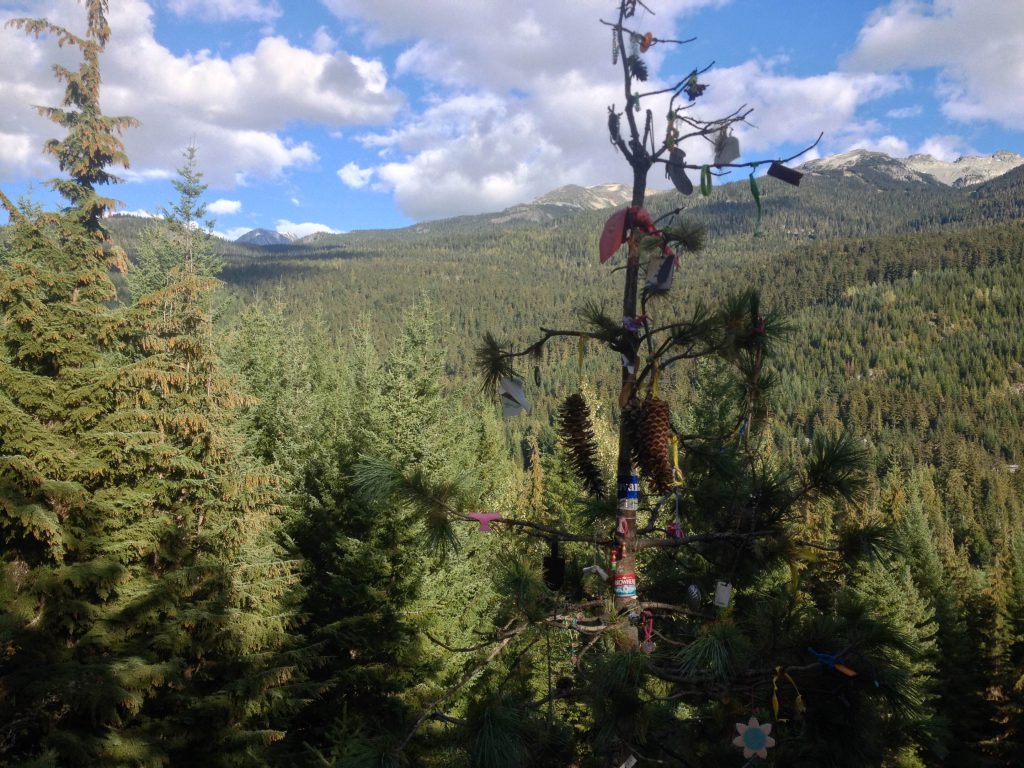 Map samples – Left: Lost Lake, Right: Black Magic